We all have heard of hashtags–the number sign (#) followed by a catchy, well-syncopated or descriptive short phrase. Typically used on Twitter, Instagram and sometimes on Facebook, hashtags help promote a campaign by providing supporters a way to connect with their common cause.  Here at www.themitzvahbowl.com, we've scoured the web for current, cause-related hashtags potentially impacting the world or community.
Check these out!
#WithoutShoes  Toms Shoes says between now and May 21, 2015, they will give a pair of shoes to a child in need if fans Instagram their bare feet with the hashtag #WithoutShoes. For every bare feet photo tagged on Instagram, Toms will give a new pair of shoes to a child. No purchase is necessary. Toms' founder says he hopes to give away 1 million pairs of shoes  to children via the campaign.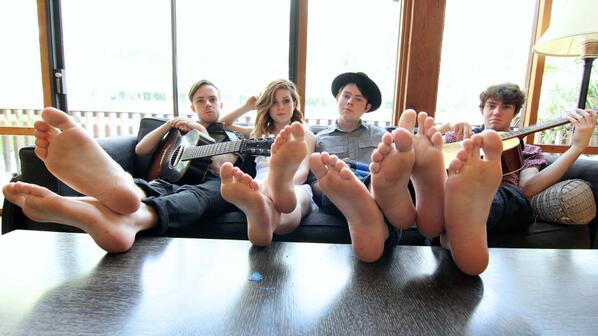 #RedThumb  Join Nissan and the Red Thumb movement by taking a pledge to end distracted driving and put down your cell phone. 

Steve Babcock was inspired to start the Red Thumb movement by his daughter, and her habit of tying a piece of yarn around her finger to remind her of something.
Steve painted his thumbnail red to remind himself to put down his phone while driving. -and it worked!
See more at:
Nissan Red Thumb
#LemonadeDays 
Alex's Lemonade Days
is Alex's Lemonade Stand Foundation's (ALSF's) annual 3-day fundraiser where supporters from coast to coast hold lemonade stands to raise funds for childhood cancer research. Lemonade Days is held each year during the second weekend of June – the time of year when Alex always held her lemonade stand – to honor Alex and all of our childhood cancer heroes.
#FosterCareMonth 
May is National Foster Care Month, a month set aside to acknowledge foster parents, family members, volunteers, mentors, policymakers, child welfare professionals, and other members of the community who help children and youth in foster care find permanent homes and connections. During National Foster Care Month, the
U.S. Government
renews their commitment to ensuring a bright future for the nearly 400,000 children and youth in foster care, and we celebrate all those who make a meaningful difference in their lives.
#TheBedIsDead
Cancer isn't something you
want
to get. But more and more young people are facing one of the deadliest forms of skin cancer – melanoma. It is the most common cancer of young women and the second most common cancer in high school students. And it's preventable.Indoor tanning remains popular, even though it is strongly linked to an alarming increase in melanomas. For patients under age 30, indoor tanning is the cause of 76 percent of this most dangerous skin cancer. The unnaturally high ultraviolent radiation in tanning beds also causes other long-term skin damage.Help get the word out. Take the pledge to not tan indoors by clicking
here
.  This initiative is an intitiave by the State of Nebraska, however melanoma is a concern worldwide. 
For community service or a bar/bat mitzvah project, choose one of these campaigns, become an advocate, support the cause and spread the word!  OR ….Start your own hashtag campaign!  If you need help, email info@themitzvahbowl.com for hashtag guidance.